Castlot
In Castlot, players are asked to choose the Factioin they're going to join in, which were divided in the year of 449, when darkness plagues the people of Britain. Players can build up their own glorious cities and level up their heroes up to Lv.120. Enjoy the battles in Explore with 10 different instance dungeons, players can make it in sigle mode and team-up mode. Various PVP and PVE scenes in City and World, players can also wear Cards to be more powerful, and with the help of Patron Beast the battles will be more fierce. Every month there're exciting events happen, more bonus, more rewards, more fun.
243,804 plays
FREE AG account
is required to play
Game Features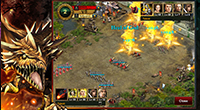 Battles: fierce battles outside the City, in instance dungeons, in World map, in Faction Battle and World War. No matter with single mode or team-up mode, all will provide players exciting challenges.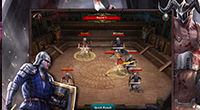 PVP/PVE in Arena: not just you can choose to fight against a NPC or a real player, you can also choose to fight with he help of your Epic Heroes.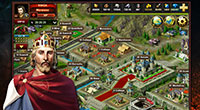 Build up: main city, decoration, annexed lands, wild lands, they're all in your hands.
More fun: abundant of rewards and bonus, no only for daily quest, but for all events.
Game Updates
12.12.2013
Routine Maintenance on Dec 12 Improvements & Bug Fixings 1. The default setting of the "Lock Buildings" function will be ticked off in the System Menu. 2. Explore System a. Attacking NPCs in the Explore will not consume troops any more. b. Player will receive one Silver Key every one hour instead of every two hours, but the upper limit of Silver Key doesn't change. b. When the amount of Key is zero, players cannot go on to the Explore. c. The Cooldown time of the defeated monsters for single-player mode will be canceled. d. The "Quick Result" function will be added in. 3. Card System a. "Auto Pick" function will be opened to all players. b. The "Keep Unlocking Card Deck A" function will be added in. c. Efficacy of Stun Skill Card (Sorcery, Hypnotism) will be adjusted. The Blue and Purple one will work only for 1 round and the Yellow one will work for 2 rounds. 4. League System a. Sending Mass Mails in the League will not cost Trumpet any more. Trumpets will be used in upcoming new function. b. The ranking of League will be subject to the level of the League. c. There is no change in the League City Seizure Ranking. 5. Hero System a. Heroes below Lv 30 can wash attributes for free. b. The Advanced Mode of 2 Hours and 8 Hours will be added in. c. Player can consume 6 Diamonds/ Magic Potions to accelerate Avalon Training for half an hour for each time. d. Player can use Diamonds/ Magic Potions to increase Training Queue up to 10. Upgrading the VIP level can also increase the Training Queue limit. However, if your training queues opened are more than the training queues limitation of your next VIP level, then you won't get more through upgrading to next VIP level. 6. Chat Box System a. Fix the bug that the Show of info cannot be sent in the Private channel. b. The Explore channel will change to be Battlefield channel, which displays the messages from battlefield (The relevant system messages of Faction Battle will be shown here). c. The chat setting function will be added in. Players can choose whether to show the messages of a certain channel and Info in "ALL" channel. 7. Christmas Activity Castlot's winter comes. The scene in the World Map has been changed into snow-covered landscape and it'll be lasted for some time. Various Christmas activities will be launched. Stay tuned for the updates! 8. Equipment Enhancement The comparable preview of equipment before and after being enhanced will be added in the Smithy, which shows you the reference value after successful enhancement. 9. Bug Fixing Fix the bug that the Battle Panel will be closed if the players check the City showed in the chatbox while battling.
11.12.2013
Castlot online will come soon!
Game Stats
3.8
Castlot