Dino Storm
Face gigantic herds of dinosaurs and merciless robbers as you start your thrilling search for valuable loot. Set up supply camps, outposts, and goldmines, defend them against other players, and earn fame and respect. Only the best will become the sheriff! For a limited time only the game comes with a free starter gold bonus. Get it now! (See below for instructions on how to get it.)
1,094,560 plays
FREE AG account
is required to play
Game Features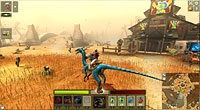 Explore the expansive and beautiful world from the back of your dinosaur mount.
Experience the thrill of adventure in the wide open range.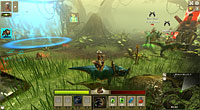 Take control and defend resources as you build your empire.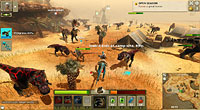 Form a gang and expand your influence.
Game Updates
10.26.2013
NOW ONLINE: Get Your Spine-Chilling Dinosaur Skin Art and Ranger Costume! "Halloween in Dinoville" is here! Play seven spooky event quests to unlock awesome dino skin art and ranger clothes items, just for you!
10.17.2013
NEW With The Latest Update: Read Your Surroundings Like a Book! - See What You Scored in Combat at First Glance - Trace Dropped Items, No Matter Where You Are Your ranger's tracking skills have improved so much that you now get a clear image of all the items you scored in combat. And should you happen to drop an item because your ranger was defeated, you now know exactly where to go! Read more on our website: http://dinostorm.com/en/read-your-surroundings-like-a-book-thanks-to-expertly-tracking-skills
09.25.2013
Now Live: Create Amazing New Skin Art & More! The Triforge, a device that can create exciting new items from common ones, has come to Dinoville. You want to see it in action right now? No problem, just head east from the central plaza! Stunning new ranger clothing, one of a kind dinosaur skin art, attribute-boosting accessories! You want to learn more? Read all about the Triforge update on our website: http://dinostorm.com/en/create-new-dinosaur-skin-art-with-the-amazing-triforge