Dino Storm
Face gigantic herds of dinosaurs and merciless robbers as you start your thrilling search for valuable loot. Set up supply camps, outposts, and goldmines, defend them against other players, and earn fame and respect. Only the best will become the sheriff! For a limited time only the game comes with a free starter gold bonus. Get it now! (See below for instructions on how to get it.)
1,182,414 plays
FREE AG account
is required to play
Game Features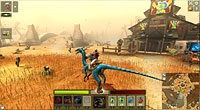 Explore the expansive and beautiful world from the back of your dinosaur mount.
Experience the thrill of adventure in the wide open range.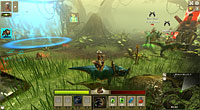 Take control and defend resources as you build your empire.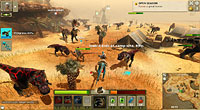 Form a gang and expand your influence.
Game Updates
03.25.2014
Conquer the Beautiful but Deadly "Green Volcano" - The New Map for Levels 25 and Up! Terrifying tales of lost expeditions surround the mountainous area south of Goldfields. But now that a valuable mineral has been found in the volcanic soil, there is no holding back anymore! Read more: http://dinostorm.com/en/conquer-beautiful-but-deadly-green-volcano-new-map
12.20.2013
MORE CANDY - MORE TREASURE: Dino Storm Christmas Event Extended until Tuesdays December 31st. The Elves have told us that some players might just need a little bit longer to complete all needed tasks for Christmas this year so we decided to extend the event for 5 full days! The event will now run until Tuesdays December 31st. The Dino Storm team wishes you all a Merry Christmas and a Happy New Year!
12.17.2013
TUESDAY: It's event time - "Christmas in Dinoville" arrives! Collect sweets, give them to your friends and get rewarded! Nicholas the christmas trader returns to Dinoville! Together with his team of christmas elves from the North Pole he wants to show everyone that gift giving is both fun and rewarding! Visit our website to learn more about Nicholas' game of generous gift giving: http://dinostorm.com/en/christmas-in-dinoville-give-candy-to-your-friends-and-get-rewarded-with-festive-items "Christmas in Dinoville" starts on Tuesday, December 17, 16:00 / 4 PM local server time*, and runs until the end of Thursday, December 26. * US Server Time Zone: EST | EU Server Time Zone: CET | Asia Server Time Zone: CST
Game Stats
4.55
Dino Storm