Pirate Galaxy
The human colonies were overrun by the Mantis, the imperial empire betrayed them. Outnumbered by the enemy, the colonial forces struggle with the increasing power of the alien intruders. Enjoy fast-paced, tactical spaceship combats, become part of a spectacular storyline and invite your friends on exciting missions against the unite enemy. For a limited time only the game comes with a free Rapid Tank Ship. Get it now! (See below for instructions on how to get it.)
438,195 plays
FREE AG account
is required to play
Game Features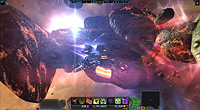 Experience free 3D Multiplayer Action
Play in your Browser - no installation needed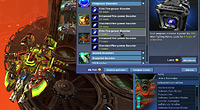 Get armed to the teeth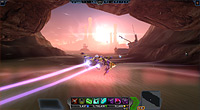 Prevail in thrilling spaceship combat
Game Updates
10.26.2013
"Halloween 2013" is here! NOW ONLINE: Save Lyris From the Gamma-Bamba and Score Brand-New Blueprints! Shoot gamma-bamba plants on Lyris and collect blueprints for two special craft!
09.18.2013
Intercept the Mantis' Drone Technology Tests! From Vega to Draconis, suspicious Mantis units have been spotted conducting field tests of a new kind of drone technology. Intercept them and steal the new drone technology! - "Mantis Vision" begins today, at 16:00 local server time*. - The event will run until Sunday, September 22, 23:59 local server time*. - Suspicious Mantis have been spotted on many planets from Vega to Draconis. - Uncover the Mantis' latest plan and steal their new drone technology! * US server time zone: EDT I EU server time zone: CEST
07.26.2013
For a limited time only, ArmorGames and SplitscreenStudios offer you a free starter bonus: a Rapid Tank Ship! Get it now! In the game, enter the shop, click on "Coupon Codes". Enter this code: "Armor-Bonus" to receive the Rapid Tanks Ship for free.