Skyshard Heroes
Skyshard Heroes is a realtime strategy/RPG set in the beautiful steampunk world of Syrelia.  Build up your town to a sprawling metropolis and conquer your enemies to become the most powerful Hero in Syrelia!
1,719,720 plays
FREE AG account
is required to play
Game Features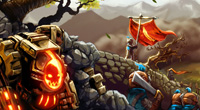 Welcome to the Fantasy-Steampunk world of Skyshard Heroes, where arcana-powered Mages and mechanical Rivets aid your quest to defeat the evil Triumvirate!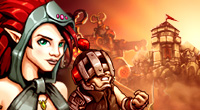 Battle opponents live and in realtime with your mighty Hero and an army of Swordsmen, Rangers, Rivets and more!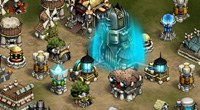 Build up your town from humble beginnings to a sprawling, arcana-powered Metropolis!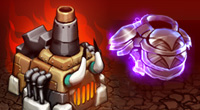 Craft powerful gear for your Hero in the Forges of Syrelia!
Game Updates
05.06.2013
The monstrous Archanid now roams Syrelia, spreading its beams of destruction from town to town. Can you rally your armies and stop it's siege?
04.24.2013
The new World Map feature has arrived! View the patch notes and the new roadmap discussion at: http://forums.synapse-games.com/showthread.php?113362-The-World-Map-is-live-and-our-Roadmap
04.05.2013
New bug fix update: http://forums.synapse-games.com/showthread.php?113168-April-5th-Update