Forums → Forum Games →
World MoRPT Version 2.0(Multiplayer online role playing thread...lol)
This is my newest RPG, where if it goes smoothly, you will get to explore lots of cool different places! Experience awesome battles, different attacks, cool specials, different kinds of weapons and armors, lots of monsters, mysteries to solve, and more! When you start, you cannot be almighty strong. You start off as simple a normal person going for adventure! Here comes the world!

Starting place, Bone Island, the map: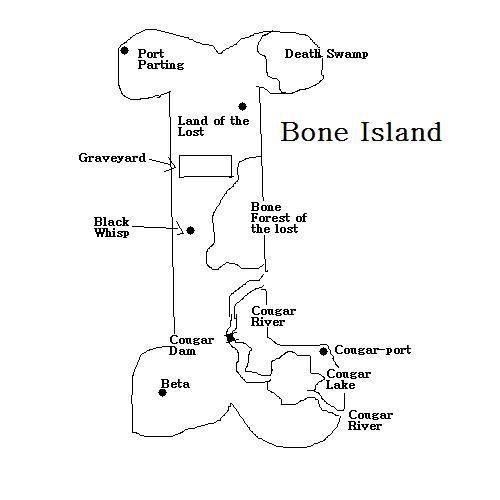 It should fit this time...

To join, fill in this form:
NAME:
AGE:
GENDER:
PERSONALITY2 sentences minimum)
DESCRIPTION1 sentence minimum)
HEIGHT, WEIGHT:
LIKES:
DISLIKES:
DOES IN SPARE TIME:
STRENGTHS:
WEAKNESSESAt least 2)
STARTING PLACEDoesn't have to be a city, choose from the map)
CLASSLook below)
Starting WeaponChoose from your class's starting weapons below)
Extra Info:
Picture?:

Classes:

(WARRIOR)
Description:
Focuses mainly on being strong, brutally armored, hard attacks, but is rather slow and not good for air battles. Sometimes clumsy. Strong close ranged attacks.
WEAPON(S): Sword, Dagger, Axe or Spear
ARMOR(S): Metal Plate
Lv.1
HP: 50/50
MP: 30/30
ATK-5
DEF-3
SPD-1
Cri:1
Bonus:5
Evasion:3

(MAGE)
Description:
Focuses on mostly magic, wielding both attack and defense. It is also rather fast, but is very vulnerable to attacks. Good for battling long range.
WEAPON(S):Wooden Staff, Plastic Staff
ARMOR(S):Robe, Cloak
Lv.1
HP: 40/40
MP: 50/50
ATK-2
DEF-2
SPD-3
Cri:4
Bonus:10
Evasion:2

(THIEF)
Description:
Thieves are good at dodging, hit hard, and move fast and are good at stealth. They are vulnerable to attacks, and have low life.
WEAPON(S):Short Sword, Dagger, Stabber
ARMOR(S): Leather, Light
Lv.1
HP: 30/30
MP: 10/10
ATK=5
DEF=2
SPD=7
Cri:6
Bonus:5
Evasion: 8

All users start at level 1 with 10 coins. Coins are used to buy extra stuff during the game. All users also start with 1 health potion and one mana refill. They also start with a backpack that can hold up to 10 items. They all start in a little hut of their own that counts as their home and can be used to replenish health and energy.

Bone Island is a dark, spooky place that serves as a graveyard for many. All have been sent here to investigate the reportings of missing bodies that were dug from their graves. Live people have also been disappearing. It is your goal to uncover the mystery. When you do, you get to travel to somewhere now!