so what do you guys think about deadpool?

personally i think deadpool is the most awesome comic book character ever. i think he's really funny, along with being an awesome bad ass with the dual swords, and sometimes some other weapons.

random picture



another random picture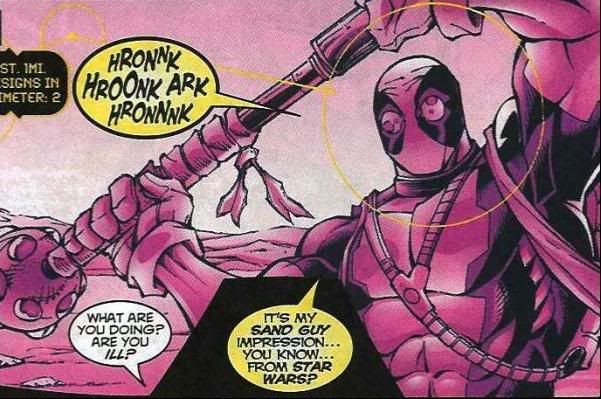 eh screw it one more.




link to wikipedia for those who want to learn more.
http://en.wikipedia.org/wiki/Deadpool

oh and one last thing, to those who are fans of deadpool, i've heard that the guys who wrote zombieland are working on a deadpool movie. should be out after.. 2 more xmen movies i think, at least thats what i heard.
shoot didnt realize how big that first picture was lol.

I think Deadpool is really damn awesome. He's my favorite superhero character of all.

Deadpool, the funniest bad@ss to walk any universe.

I wish I had some Deadpool comics. I first heard of him in Marvel Ultimate alliance, where he is the character I control. After looking him up some I found him to be an awesome dude.

wth is the first pic left << a dick ? :O
at the bottom of the first pic theres a scroll bar, scroll over to the right and read what he says.

and Moe, thats where i first heard of him too lol. i have some comics, about half of the cable and deadpool series, and some others.

I just hope they don't destroy the character in his movie...