What is your favourite spaceship? It could be from a game, TV show, film, or book. Why do you like it?

My favourite is the Starship Bistromath from the Hitchhiker's Guide to the Galaxy book series. I like it because it's the fastest spaceship in any form of media (I think), can travel through time, and is an amusing concept. In order to perform the calculations needed to plot flight plans, the calculations must be carried out in a simulation italian bistro (complete with android waiters and customers), as numbers behave differently there. I couldn't find a picture, but the ship looks like a small, upended, italian bistro.
I couldn't find a picture,
Here go:
Good question, hmmm I'd have to think hard. I thought dem X-wings were pretty cool, in any event.
The Event Horizon, btw.

Now there's a hotdang spaceship.


Well that's an easy one, Serenity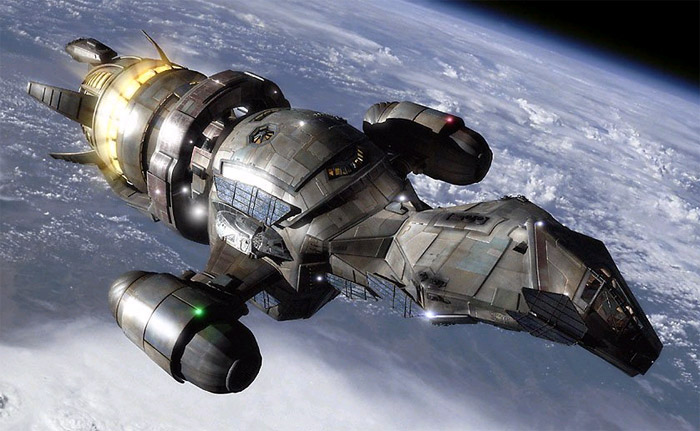 ~Manly
No love for the Starship Enterprise?




Now that's an epic spaceship. And it can kick the Millennium Falcon's butt any day of the week.
No love for the Starship Enterprise?
Nope, sorry. Guess I'm both too young and too old to have become a trekkie
can kick the Millennium Falcon's butt
Whoa, now wait just a minute...
I'll raise you guys the space jockey's ship. Brrr.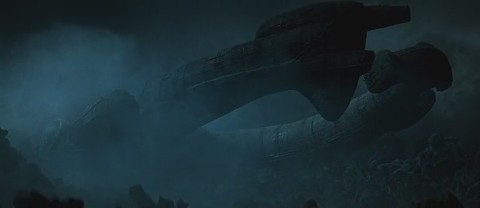 Culture GSV. A giant (like, maybe 7 kilometres) ship, capable of destroying a solar system by braking too hard, fitted with all the amenities of a planet. They had populations in the billions (the bigger ones) and AIs with processing power millions of times that of pathetic human minds.

I imagine them like that.
MY LINK FAILS ME
HERE IS ANOTHER ONE
HOW DO I DISABLE CAPSLOCK

In matter of spaceships, I still rely heavily on Star Wars. Not that I don't know any other, but I just know many from there.

I feel like mentioning two different spaceships:

Concerning small, one-man space fighters, my favourite is likely the N-1 Starfighter, or Naboo Fighter. I like the very elegant design of this vehicle.

Concerning bigger spaceships, one of my favourite is certainly the monstrous Executor-class Star Destroyer. It is huge, armed to the teeth, and still so much more elegant compared to the smaller version with that clumsy control center on top of it.
The Millenium Falcon.



YT-1300 frieghter Millenium Falcon
Firefly Transport: Serenity
Time and Relative Dimensions in Space
NCC-1701 Enterprise
and for fighters the N-1 Naboo Starfighter, dat chrome.

~~~Darth Caedus
[quote=Nerdsoft]HOW DO I DISABLE CAPSLOCK[/quote]

You essentially touch (depress) the CapsLock key again

Doesn't the Bistromath feature in the movie, btw? I've trouble finding a pic of it now.
It can go incredibly quickly
Not in real space though. You need a bistromathic drive for that.
You essentially touch (depress) the CapsLock key again
IT WAS SARCASM
SERIOUSLY THOUGH, I'VE BEEN CALLING IT FAT FOR LIKE AN HOUR AND CAPSLOCK IS STILL ON
ALSO, THE VEKTAN ISA CRUISER FROM KILLZONE IS SUPER HAWT