Forums → Quests →
Dangerous Adventure 2 Quests
Gather your armor and prepare your weapons to achieve these for Dangerous Adventure 2!

Armourer
Upgrade Any Weapon Card To Level 4.
Hardness: Easy

Armorsmith
Upgrade Any Armor Card To Level 4.
Hardness: Easy

Master
Upgrade Any Skill Card To Level 3.
Hardness: Easy

Knowing
Collect All Skill Cards.
Hardness: Medium

Collector
Cook All Meals.
Hardness: Medium

King Of Thieves
Open All Chests.
Hardness: Hard

The End?
Kill The Dungeon Master.
Hardness: Hard

Dragonslayer
Kill All The Dragons.
Hardness: Hard

Champion
Complete The Tower.
Hardness: Hard

The End!
Complete 100% Of The Game.
Hardness: Hard
The third key is not in map 1. I forgot which map it is in but I'm in map 4 in my second save and I still don't have it yet. In fact most maps have at least one section you can only access much later, just return when you find the required quest items.
I think I hit on a good strategy for grinding through the tower dungeon; kind of mindless and repetitive, but so am I ....
I went in focusing on Magic Channel for the wizard, Exorcism and Healing Touch for the paladin, Fist of Fury for the barbarian, Ambush for the hunter, and 2nd Wind for the thief. At the start of every turn, I would click 2nd Touch, Ambush, and Magic Channel, clear the board, and then work with the resulting tokens on the next board. Before I took my last turn, I would use Fist of Fury to clear a large swath of blocks, often resulting in a few more turns. My mana count for all colors usually stayed around 900, and if I absent-mindedly forgot to use Fist of Fury and received damage from surviving enemies, my Healing Touch and Exorcism could usually get me out of a bind.
Anyway, I trudged through from Level 40 to Level 82 using this method but then messed up; I may have made it all the way, but we'll see how I do starting at 81 again.
fun and very eventful. A great game!

@helpo1 - Actually he is one of the easiest dragons to kill because of his color and lack of real abilities.
Easy strategy for beating the final dragon, should takes no more than 3-5 turns (I actually finished in 2).
Step 1) - Fight in the level until you have 999 of all 5 mana and max health.
Step 2) - Equip the following cards:
Yellow:
Exorcism (clears field of tokens)
Strengthening (increases any hero damage by xxx% - I had it at level 5, which is 100% damage)
Red:
Fury (increases damage by XXX% - I had it at level 4, which is 240% damage)
Purple:
Substitution (allows you to swap blocks on the field - I had it at level 4, which is 4 blocks per use)
Step 3) - Fight the dragon!
First turn - use Strengthening and Fury on the Barbarian (red). Use ambush to toss out the power up tiles, then use Substitution to move all the red tiles into one big line. If you have extra substitution moves, use them to move tiles around so you can get a bigger Yellow hit on the end.
First turn you should be able to get 2k-5k hp off the dragon, depending on the initial tile drop and your weapon level/hero level.
Second turn - First use Exorcism to clear all tiles. Then use Strengthening + Fury again.
Third turn - Use Exorcism. Then only use Fury + Substitution(save yellow mana for just Exorcism now).
With this setup you should have a good 5 turns of the dragon just doing base damage to you, you wiping the board, as long as you're doing more than 2k per turn you should kill him before you run out of Exorcism mana.
Incidentally, this setup makes it laughably easy to farm the Red dragon if you guys are trying to farm for cooking recipes - you don't even need full mana, just enough for Strengthening, Fury and Substitution and you can literally 1 shot him.
@Olinser - your strategy is basically the same as mine - enough mana, Exorcism and Substitution, no tile buffs. The only thing is that you're glass-cannoning and I'm tanking, with you using strength buffs for Barbarian, while I'm going the slower way of healing 120-150HP per turn and attacking directly with Monk, collecting mana for usually at least 5-6 exorcisms. At least 8-9 turns of guaranteed survival.
(For the record, the first time I killed him was in the early 30s with not-really-high level equip/skills. I remember I had Substitution at 5 tiles, Strengthening at 60% and Fury at 180/200/something % (?) I think.)
i killed all bosses, cleared all maps include the the tower, collected all items and cook all meals, defeated the five dragon and tower master and secret boss too, but still couldn't complete the game. did i miss something, help (

You got the quest, perhaps you didn't notice it!
Guys:
1. Your team must be for searching (Reading runes, Jumping, hacking, healing, finding new ways to the secret chests or something of this kind)
2. You can find 1 creature, who will be in swamp on the start, who will trade recipes (not on the gold)
3. When you will complete level 4, you will unlock the "Tower MODE", to start him, click on level 4 and near the button "start" there will be a "tower" (Every 5 levels of tower gives 5 cards (or upgrades)
Finaly 10/10, the druid is a beast when you have to collect the meats for the meals. I killed the purple dragon 8 times... no meat, druid in... kill him 2 times (messed up the first cooking-try because i used a pan...) get 3 meats.
How many Skill Cards in this game? I have 7 Skill Cards of every color (13 Cards in total of every color) but still didn't get the Knowing quest.
Here's a list I made of where all the ingredients are located. What level they are on and what enemies drop them. Note that Environment just means that the ingredient can be picked up off of the environment.
You will probably want to right-click on the image and select View Image (Firefox) or Open image in new tab (Chrome) for a larger more readable version.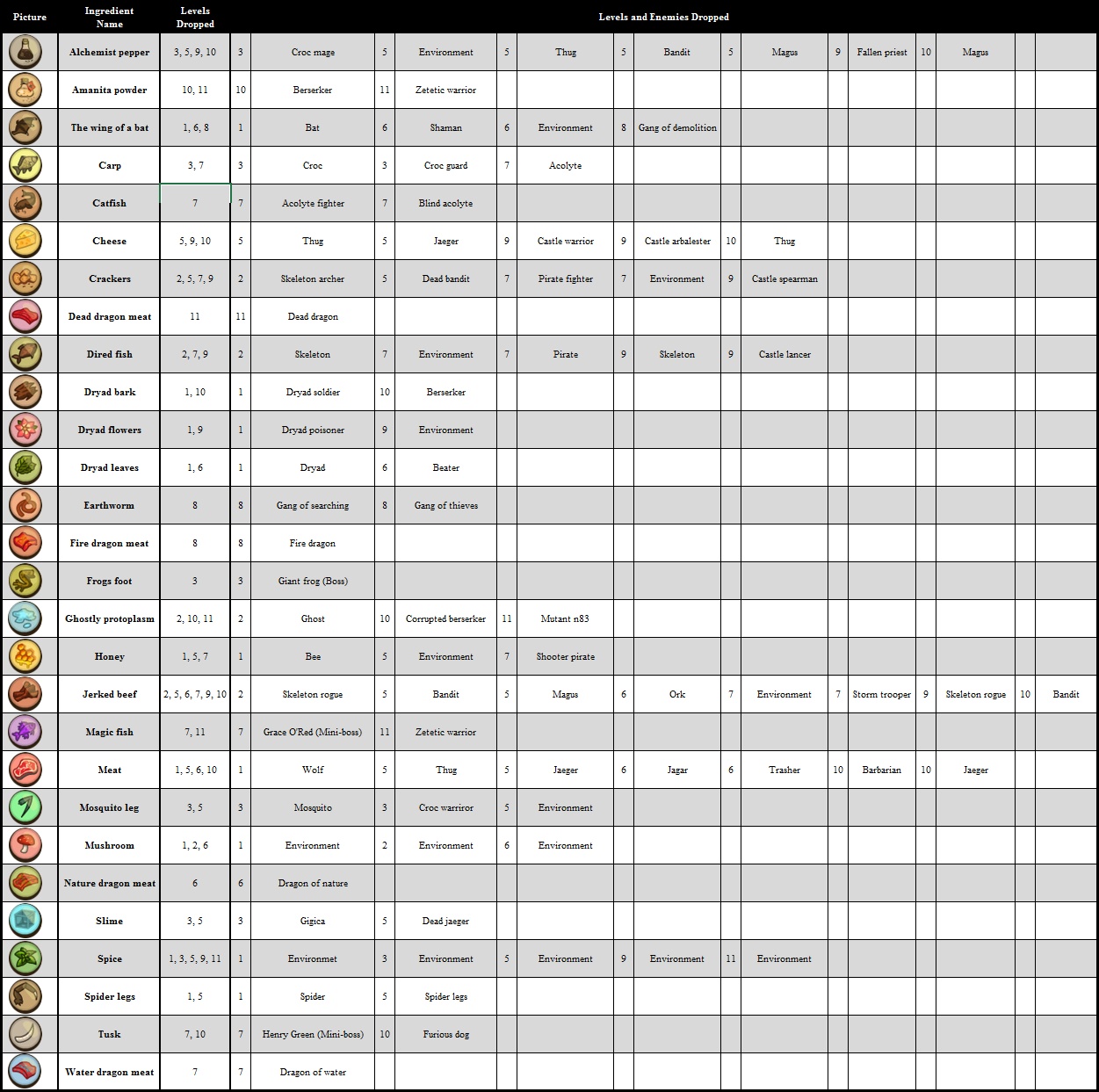 Anyone cannot complete the "Kill all dragons" achievement despite killing all dragons in their respective dungeons and also in the tower multiple times? Thanks for your help and input. Also, I figured that there is a 39th meal called the strange meal needed to unlock the "Cook all meals" achievement. Cook strange meal by getting 0% while cooking any recipe.
Guides to this game:
http://armorgames.com/community/thread/12599271/dangerous-adventure-2-walkthrough
http://langadventurer.blogspot.sg/2016/09/dangerous-adventure-2-walkthrough-part-1.html
The third key is in map 5.