PREFACE
Back when the first Sonny hit the internet I was hooked;
I didn't develop games back then, but it's one of those games
that sparked my interest for the profession.
Now, close to the release of the third installment,
it's time for me to create a tribute.
I have been developing games on and off for a few years now;
In this period I've continued to learn through taking on different projects.
Sonny: Genesis is the next big project I've set for myself.
It'll cover much unexplored territory for me, and is a perfect opportunity to
grow as a developer.
*Note:
I'll try to update this thread at least once a month with a
#development-update. Keep in mind that I'll be learning through development,
and it probably won't be a smooth road till completion.
Any and all feedback/input is appreciated!
#1 DEVELOPMENT UPDATE (04/08/2016)

(Design process in Adobe Flash)
First time drawing a full humanoid for one of my games!
It was drawn after a sreenshot I took of sonny ingame.
Had to devide him in all these layers to make animating him easier.

(Layers exported from Adobe Flash)
Speaking of animation, I recently aquired a copy of Spine.
I will be using it for all the animations in the game.
It makes my job alot easier cause I will be able to swap different
layers for different bones at runtime!
Animating in Spine was alot easier then I expected!
Animations done: (Idle Animations) (Melee Attacks) (Cast/Buff Animation) (Hit&Die Animations) (Stun Animations)
*Note:
I am by no means an animator, but I like how these turned out.
Also, the swords are placeholder at the moment; I ripped these of the Sonny Wiki
Next up will be designing armorsets and weapons;
I plan to have most of the stuff drawn and ready to go before I head over to programming.
- Jeremy
#2 DEVELOPMENT UPDATE (01/02/2017)
Long time no C#
I never intended to stay quiet for this long,
in fact I planned to make this my most vocal project yet!
So let me tell you what happened...
Development was going great.
A good amount of armor and weapon designs were done;
about 15 full-sets. Most of it still needed detailling, but it was all there.
I had already sketched out how the engine and mechanics would work internally,
and started prototyping them.
Then it happened... My harddrive failed on me.
All the work I did was gone.
Although I never wished for this to happen, I've learned a valuable lesson.
Back up your work!
I'm storing everything in the cloud from here on out.
Let's face it, if this were to have happened near the end of development,
it would have been much worse.
I didn't want to do another update just to explain I have to start over again;
I have some good news aswell.
I'll be re-designing the base character.
I'll have to re-draw it anyways, and I want to improve it over the old one.
It seemed a bit lifeless to me, and I want to change that.
Not to mention the cross on his chest and wierd legs @ivanxxxxxxx already pointed out.
To the winners of the armor design competition, your armors will still be included!
I'll just be adapting them to fit the new design of the characters.
The winners were:

@spaceskeleton @jonathannanhu @Koshionos
Lot's of great entries were submitted, so I had chosen three winners!
I appreciate the amount of responses to the contest,
I loved it, and I'll definitely have a different contest in the future!
So in this down-time when I couldn't work on the game on my computer,
I whipped out a note-pad and started writing down story ideas.
At this point, it has evolved into a cohesive plot.
There are still gaps to be filled, and zones have yet to be designed,
but key elements of the story are basically set in stone.
This wasn't an easy task, but I'm confident fans of the series will love it *hint*
Gameplay-wise I've decided I wanted to incorporate AOE skills.
I don't have an iOS device so I don't know if Krin has added these to the re-boot,
but it is something I'd like to add to the established sonny 'formula'.
I've also hit the drawing boards again,
I decided to focus mainly on the UI to get my mind back in the game.
Good progress has been made:


(Mimicking the original health and focus bar)

(Different buff/de-buff icons)

(Background panel)
Some portrait work has also been done,
but I won't show this for obvious reasons
That's it for this update!
I hope this clears everything up a bit,
and development goes smoothly from here on out!
It's good to see you guys are still around
- Jeremy
#3 DEVELOPMENT UPDATE (17/02/2017)
Hey guys!
Development is on a roll again;
I've designed the new base character for the game.

(New Character Design)
As you can see it's pretty similar to the original sonny games,
and definitely an improvement over the old design.
I've already finished rigging the new character and started the animations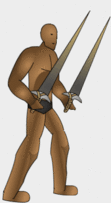 (New Idle Animations)
The shown weapon is the only item done so far.
The next step will be designing armorsets and adding more weapons.
Just a short but sweet update!
- Jeremy