Forums → Quests →
[REPORT] Bugs & Glitches for Quests only
Quests are the extra achievement for Armor Games' users to enjoy, the bonus that unlocks when you reach certain in-game goals! But unfortunately... there can be bugs and/or glitches occuring that prevent you from unlocking that awesome shiny extra prize to gloriously show off with on your profile...
This thread is to provide a place to report problems with Quests so the Armor Games Staff can effectively look at them to squash the bugs and fix the glitches.


Some guidelines on how to report Quest problems...
Some Quests unlock instantly upon achieving a certain in-game goal, but sometimes they may need you to finish a specific level or reach a certain save point in the game to submit your progress. Please allow some time to pass and if it still does not unlock for you, report it here.
Make sure you always have an internet connection while playing a game that has Quests. If you play 'offline', some games fail to track in-game progress and this will result in (a) Quest(s) not registering/unlocking.
When given the choice, always choose the online save option for a game that has Quests. It is not a necessity for every game with Quests, but a lot of them track a Quest's progress this way. Want that Quest? > Use the online save...
When you post a report about a Quest problem, please make sure to add:
• The name of the specific game with Quest problems;
• The name of the Quest(s) that fail to unlock;
• Why (you think) the Quest does not unlock for you;
• A screenshot with proof in case you reached the in-game achievement(s) that match the specific Quest's info.
Please add my callout (@MrDayCee) to your report post in order to get the quickest response to your problem.


This thread is for problem reporting on QUESTS only please. All discussions about Quests in general need to be redirected to the Quests Forum and their designated Quest Chat thread. And if you want to give some feedback, or have ideas about Quests, you can do this in the Official Quest Feedback Thread!


Any problems with games, server glitches and bugs in general (all not Quest related) need to be addressed through our SUPPORT please.


Thank you for your help! Have fun and game on... HUZZAH! =)
Brave Shorties 2 - Completed game. No quests given.
[url=https://pixhost.to/show/114/75544137_capture.png]
[/url
@MrDayCee
• Game: Infectionator 2
• Quest: Nothing To Do
• Unsure why this does not unlock, though it might be because in-game achievement "Destroy all cities" does not unlock (the game restarts but keeps achievements once you've destroyed all cities). I have destroyed all cities and completed all in-game achievements as shown in attached image. I have additional screenshots if needed. Also left a note for the developer, but it looks like they've stopped updating game.
I've been playing yellow and nothing. i completed quest nine without pressing the question mark. i did nothing except beat the lvl and i didn't get my quest badge thing please help
In the game Catapult Madness, I achieved the first quest "Long Jumper", but when I came out of the game then back on later it had removed my quest. It was an easy one to get so I resumed play and, sure enough, when I hit requirement again it came back & I later gained "Veteran" & "Super Jumper"
Thing is, when I look at my profile, only "Super Jumper" is showing, which is strange as "Super Jumper" is for 30,000ft whilst "Long Jumper" is for 10,000ft, so if I can get Super Jumper then there's no way I wouldn't get Long Jumper
Imgur screenshots below:
https://imgur.com/a/JDs5rf9
https://imgur.com/a/ZjZ55qI
@MrDayCee
I ended the Whole Shortie's Kingdom 2 game, but it seems no quests unlocked. This is the first time it happens to me on Armorgames, I hope it's possible to fix this!

idk if it the games I play or just my account but for some reason most of the games which have quests whenever I complete the quests on some games it says I haven't completed them .
it might be the games I play but there are lots and ive seen other people and they got that quest so its probably my account ?
pls fix this
@MrDayCee I completed the game in 52 days but i didn't receive any single quest! Can you fix that for me if you can?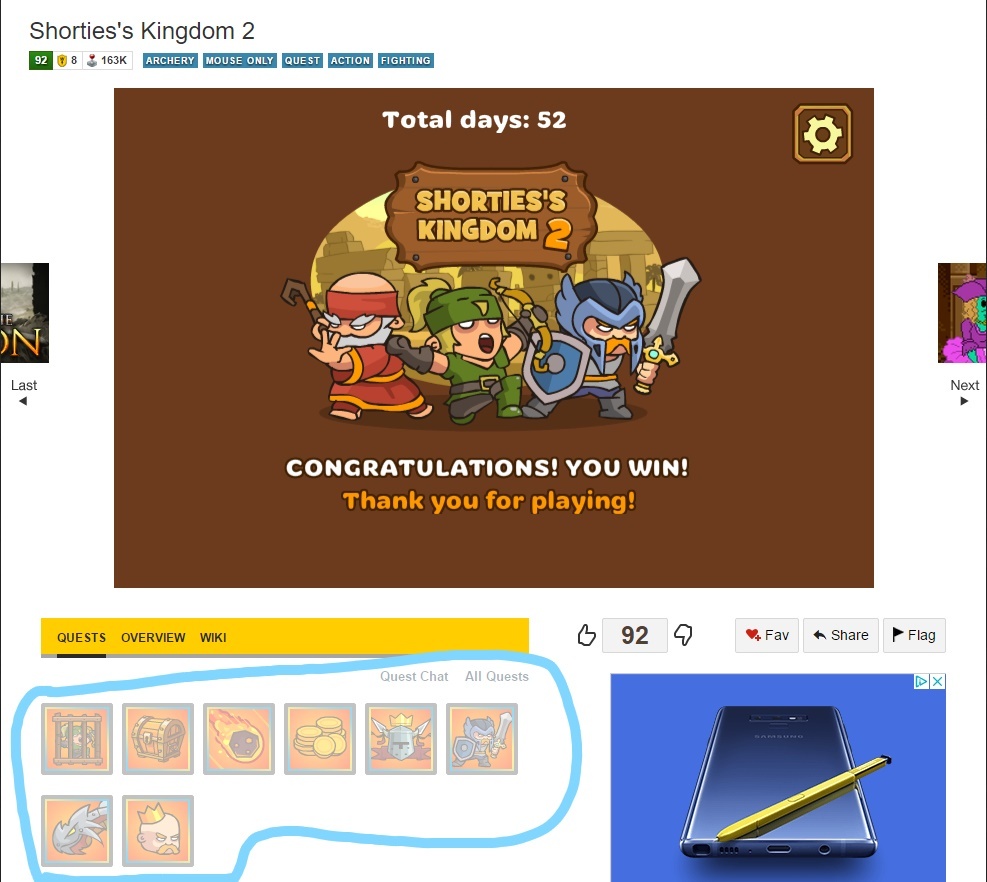 @MrDayCee I am planning to get last quest from Hero Simulator: Idle Adventure called: Interstellar Explorer
I was buying perks with Hero Spirits and some of the perks doesn't work! It's completely bugged for me and a lot of players and it's really frustrating! This needs to be fixed and it hasn't been fixed for a year and half! Is there any way to get that quest in fast way besides buying Hero Stamps with real money?